We have a had a great couple of weeks full of weddings, engagement parties, graduations, beach weekends and more, but unfortunately I have lagged in the blog posting! We have done a few things around the house, like a cute new pillow for our bedroom to match the
master bathroom
:
We have also been trying to find out what to do with our guest bathroom.
(Before)
We have stripped the wallpaper, taken down the frill and bow curtains, and its a blank canvas with black and white tile with a yellow sink & tile around the shower.
Tried to experiment with some paint color options. Green was no. Yellow had potential but not the look we wanted. My first thought was this fabric by Amy Butler: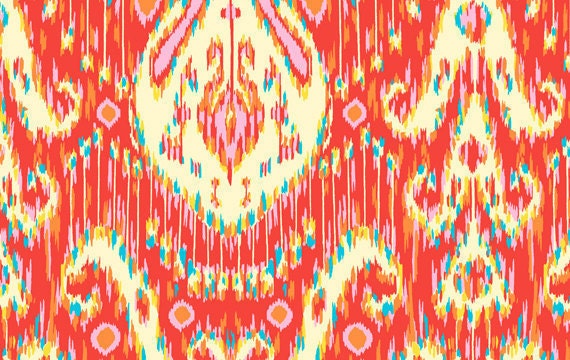 I bought a few yards of it to make a roman shade for the window and had the desire to paint the walls a soft blue color but got a little scared that it would look to crazy with the rest of our home being so neutral. Back to the drawing board - will post back about out what we decide to do!
One major project has been working on finishing the den. It has been painted -
click here
to see how we painted the paneling. After painting our next challenge has been the bookcase. We weren't sure how we wanted to utilize the space.
One thing for sure was the gingerbread moulding HAD to go! It surprisingly came off very easily - except for the top.
We decided to paint the trim and desk part the Sherwin Williams Alabaster White. But weren't sure what to do with the back of the bookcase that would go with the stain glass window.
Because we wanted to be done and feel a sense of accomplishment, we painted the back of the shelf the same color of the trim. And we both just feel kind of "blah" about it, I didn't even take a picture so you just kind of have to imagine here. A thought was to color the back in grasscloth but now we have decided to paint it.
Here is our inspiration:
I'm obsessed with the natural clean look. And look at the bookshelves - they become more like a display with the brown. The greens, tans, and brown are so peaceful and cozy to me and adding plates (that look very much like our china pattern), deer antlers, and naturals - I can't wait to start building this room!
I bought a quart of Sherwin Williams Thatch Brown and am going to paint the back of the shelf tonight - be sure to check back in for updates! Once again, Thatch Brown came from the Sherwin Williams strip that we used in the rest of the house - seemed like a must when it came to choosing a brown!
Thanks for reading!!